Navarino Icons Extra Virgin Olive Oil in metal tin, 1000ml
1000ml metal tin
Navarino Icons Extra Virgin Olive Oil in metal tin, 1000ml
1000ml metal tin

EVOO World Ranking - EVOO of the Year 2018

Los Angeles International Competition "Extra Virgin Olive Oil, Packaging Design" - Bronze Medal

New York International Olive Oil 2015 - Silver Award

Olivinus 2018 - Gran Prestige Gold

Olivinus 2018 - Prestige Gold

TerraOlivo 2018 - Gold Award

EVO International Olive Oil Competition 2018 - Silver Award

Athena International Olive Oil Competition 2018 - Silver

EVOO World Ranking - EVOO of the Year 2017

Olivinus 2017 - Gran Prestige Gold

Terra Olivo International Olive Oil Competition 2017 - Prestige Gold

Athena International Olive Oil Competition 2017 - Gold Award

Olivinus 2017 - Design Award

Domina International Olive Oil Competition 2017 - Silver Award

London International Olive Oil Competition 2017 - Silver Award

Los Angeles International Competition 2014 - Packaging Design – Bronze Medal

EVOO World Ranking - EVOO of the Year 2016

Olivinus 2016 - Prestige Gold

TerraOlivo 2016 - Prestige Gold

Domina International Olive Oil Competition 2016 - Silver Award

Athena International Olive Oil Competition 2016 - Bronze Award

Los Angeles International Extra Virgin Olive Oil 2015 - Bronze medal

Los Angeles International Competition 2014 - Bronze Medal
Product Description:
Early–harvested in the season (October) and produced from the acclaimed Koroneiki variety of olives and from centuries-old olive trees. Handpicked without any mechanical means, the olives are being transported in plastic crates, to protect the fruit, and are taken to a nearby mill within two hours of picking, in order to maintain their distinct nutritional characteristics. The olives are immediately cold pressed and malaxed for less than 20 minutes in order to preserve their fruity and spicy flavor and distinct aroma. Navarino Icons Extra Virgin Olive Oil is stored in small stainless steel tanks with nitrogen (N2) gas feeding equipment and cooling jacket coverage to maintain temperature stabilization and preservation resulting to an olive oil rich in polyphenols.
Product Information: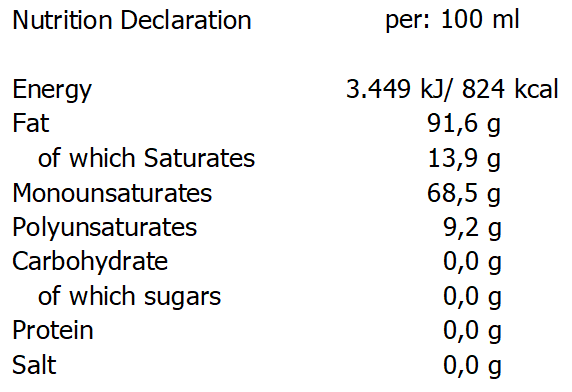 Product Of Greece

Net Weight: 1000ml/34fl.oz
Ingredients: Extra Virgin Olive Oil.
Food Allergen: The product doesn't contain any allergen according to EU Regulation No 1169/2011.
Keep in a cool and dry place.