Navarino Icons Biscuits with EVOO, Yoghurt, Raisins, Thyme, Honey, 120g
Cardboard Pack 120g
Navarino Icons Biscuits with EVOO, Yoghurt, Raisins, Thyme, Honey, 120g
Cardboard Pack 120g
Product Description:
Baked according to an authentic recipe handed down for generations, these biscuits are produced based on extra virgin olive oil and its antioxidant properties. Greek yogurt, rich in calcium, pure thyme honey, and raisins of the finest quality are mixed with the dough, giving them their enticing, rich aroma and delightful flavor. Whether dipped in a steaming morning cup of coffee or savored with a cup of mountain tea, they are delightfully addictive and add a sweet taste every time. The biscuits are prepared especially for Navarino Icons with the same personal attention shown by local housewives in their own homes.
Product Information: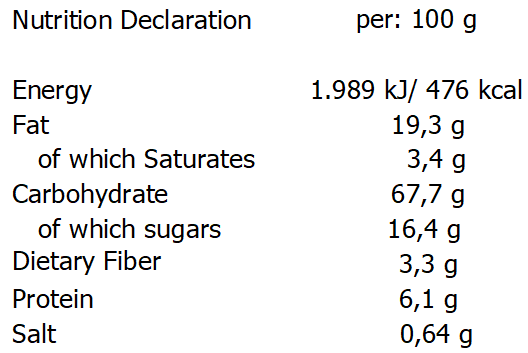 Product Of Greece
Net Weight: 120g/4,23oz

Ingredients: Wheat flour, sugar, 8% raisins, 10% olive oil, 4% thyme honey, 2% Greek Yogurt, orange juice, concentrated raisin syrup, spices Bulking Agents: ammonium bicarbonate, baking powder (sodium pyrophosphate, sodium bicarbonate, maize starch).

Food Allergen: The product contains gluten and dairy product (lactose) and may contain traces of nuts, sulfites and sesame.

Keep in a cool and dry place.