Navarino Icons Olive Crumbs from Black Kalamon Olives, 30g
30g glass jar
Navarino Icons Olive Crumbs from Black Kalamon Olives, 30g
30g glass jar
Product Description:
Crafted with a fusion of tangy and savoury notes, our unique olive crumbs are prepared following a traditional local recipe, highlighting the fine flavour of locally sourced Kalamon olives, which are handpicked with the utmost care. Navarino Icons olive crumbs stand as a pure, preservative-free natural product, capturing the essence of the Mediterranean diet, completely gluten-free and vegan. Packed in a convenient 30g glass jar, that does not need refrigeration, until it's opening time. These delightful crumbs make for an excellent addition to salads, pasta dishes, sauces, as a baking ingredient or a delectable garnish.
Product Information: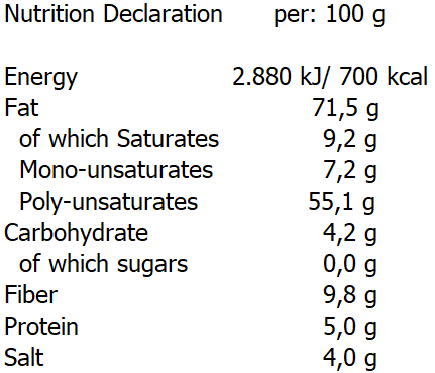 Product Of Greece
Net Weight: 30g/1.1oz
Ingredients: Kalamon Olives (95%), Sea Salt, Vinegar
The product may contain pit pieces.
Food Allergen: The product doesn't contain any allergen according to EU Regulation No 1169/2011.
Keep in a cool and dry place.