TREA Kalamon Olives with Basil and Lemon, 300g - 6 pieces
Glass Jar 300g
TREA Kalamon Olives with Basil and Lemon, 300g - 6 pieces
Glass Jar 300g
Product Description:
TREA Kalamon Olives are carefully gathered by hand, from trees grown in selected olive groves of Messinia and Aitoloakarnania at the right time of ripening to protect the fruit. They are naturally ripened by the sun and tempered by the salty air. Kalamon Olives are traditionally cured in brine with sea salt, vinegar, and oregano that allows them to naturally season. A rich tangy marinade of lemon and basil enhances their flavor. They are packed with the addition of lemon slices. Always with legal percent ages on labels.
Product Information: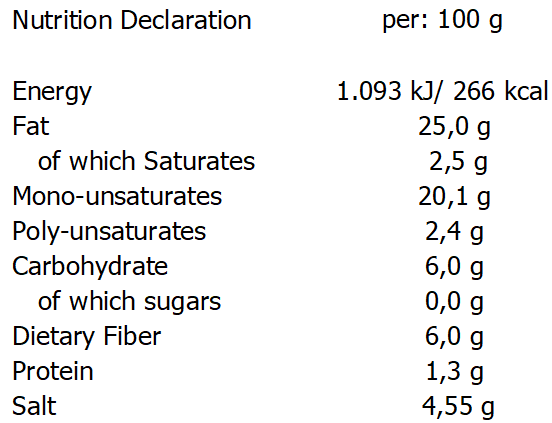 Product Of Greece

Net Weight: 300g/10.58oz
Ingredients: Kalamon olives, water, sea salt, lemon juice, lemon slice, basil, natural oregano flavoring. Acidity regulator: Lactic acid.
Food Allergen: The product doesn't contain any allergen according to EU Regulation No 1169/2011.
Keep in a cool and dry place.